Baseball was good to us in the 2000's. While we were fighting steroid scandals and debates there were still plenty of stars out on the field doing great things. Some players who began their careers in the late 90's carried their success into the 2000's. Others careers began just around the turn of the new millennium. Some of the younger stars of today's game aren't lucky because they came towards the latter half of the decade. Ranking a hitter against a pitcher is a difficult task, but with some value stats I'm sure we can figure out the better player. Here are the top 10 players from the 2000's, along with their 2000-2009 stats.
10. Jim Edmonds
.280 BA/ .398 OBP/ .548 SLG/ .937 SLG
Edmonds may not crack most top 10 lists of the best baseball players of the 2000's, but to me he's an obvious choice. Jim Edmonds is one of baseball's best defensive players ever. He's known for his outstanding diving plays in the outfield and just playing solid centerfield for his entire career. While he was flashing the leather his offense was going unnoticed. From 2000-2008 (He didn't play in 2009.) Edmonds slugged 261 home runs and 253 doubles. Not too bad for mostly a defensive player. Jim Edmonds went onto win six of his eight gold gloves last decade.
.317 BA/ .419 OBP/ .599 SLG/ 1.018 OPS
Manny is one of the greatest hitters in baseball history. While watching him in Boston I was amazed at the pitches he hit for home runs. A fastball low and inside was crushed over the monster. The home run was a no doubter as Manny dropped his bat, held his hands up, and stared at the ball go onto Yawkey Way before he started to trot slowly around the bases taking it all in. Ramirez was a character; Taking a wiz inside the wall of the monster, giving a fan a high five during the middle of the inning after making a catch, taking the cut off as a left fielder, and there are many more. Manny Being Manny is how he'll be remembered and his 555 home runs.
8. Johan Santana
122-60 W/L/ 3.12 ERA/ 1709.2 IP
Santana is one of the most dominant pitchers of the 2000's. He's actually one of two pitchers on this list. Johan knew how to strike people out. He accumulated 1733 strikeouts in the 2000's and had a K/9 of 9.1. His dominance helped the Twins be in the American League Central race for multiple seasons, but they could never get past the Yankees. Nothing to due with Santana's pitching though in five post-season game's he has a 3.97 ERA. Now hurting from injuries, the two time AL Cy Young winner is unlikely to turn back to his old form.
7. Ichiro Suzuki
.333 BA/ .378 OBP/ .434 SLG/ .811 OPS
Since joining major league baseball, Ichiro has been a hitting machine. This season was the first time in his career that he did reach 200 hits. In his time over in the America's, Ichiro has 2428 hits, led the league in hits seven times, has the all-time single season hits record with 262, and won the AL MVP award in his rookie season. Ichiro is not only a superb hitter, but an excellent rightfielder. He's won 10 gold gloves and has a rocket for an arm. Rarely does anyone test Ichiro's gun that's attached to his right shoulder. Ichiro is like a Slap Chop commercial. But wait there's more! He's also an asset on the base paths.
6. Roy Halladay
139-69 W/L/ 3.40 ERA/ 1883.1 IP 
Halladay is the best pitcher of this decade. He won two Cy Young awards in his career one with the Blue Jays in 2003 and with the Phillies last year. Halladay is a horse. He has 66 career complete games, and has nine of them in four different seasons. He has a complete pitching arsenal. Halladay can throw a lot of pitches and in many different directions. He'll strike guys out, but his main art of work is his command. If he needs to he'll get a ground ball, a reason why he pitched two no hitters (One a complete game) a season ago.
5. Carlos Beltran
.282 BA/ .363/ .502/ .865 
Earlier in his career, before all the injuries, Beltran played a great centerfield. He won three gold gloves as a New York Met and two silver sluggers. Other than defense Beltran has been one of the decades top hitters. He did slug 251 home runs, and 308 doubles during the 2000's. Beltran had one of the best post-season performances ever in 2004. He tied Barry Bonds for the most home runs in the post-season at eight. He nearly got the Astros to the World Series himself that year, but team came up short.
4. Derek Jeter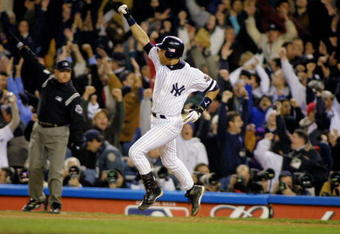 .317 BA/ .387 OBP/ .456 SLG/ .844 OPS
Jeter won two World Series in the 2000's. One at the start of the decade and the other at the end. He's never won the MVP, but was clearly robbed by BBWAA in 2006 when he finished second to Justin Morneau. Jeter's gold gloves are a product of his smart defensive plays and not really his abilities. He doesn't have a lot of range or even that good of an arm, but his baseball IQ is very high. The jump throw is more credited to his intangibles. He has many great play, the flip play, the Mr. November home run, and the dive into the stands against the Red Sox.
3. Alex Rodriguez
.304 BA/ .401 OBP/ .587 SLG/ .988 OPS
He'd probably first on this list if he started his career at the start of the 2000's, like our number pick. He's one of the greatest home run hitters ever. He has 629, and by the end of his career (if his hip ages better than it has) he'll be near the all-time home run record. Rodriguez has won three MVP's including his monster season in 2007. Many overlook Alex's glove. He's a really solid third basemen and earlier in his career a solid shortstop. For most of his career Rodriguez was looked as an unclutch player unlike he teammate Derek Jeter. Post-season to post-season Rodriguez would perform poorly, but in 2009 that changed. Rodriguez led the Yankees to their 27th World Series Championship, and the media has a new look on things with him.
2. Barry Bonds
.322 BA/ .517 OBP/ .724 SLG/ 1.241 OPS
His career was shadowed by the talk of steroids, but Bonds is probably a top 5 greatest player of all-time. For a guy to start his career in 1986 and finish in 2007 still playing good baseball, well that's incredibly rare. A reason why he's not first is because he missed some seasons in the decade. He won seven MVP's (a record), and four consecutive ones in the 2000's. Bonds is baseball's home run leader and it will likely stay that way. Well unless this next guy can do it.
1. Albert Pujols
.334 BA/ .427 OBP/ .628 SLG/ 1.055 
Pujols has been the best player of the 2000's. He's hit for average, power, and plays a great first base. He's a nine time all-star, three time NL MVP, six time silver slugger, two time gold glove winner, and a World Series Champion. Pujols has already hit 445 home runs in just 11 seasons. If he continues at this pace he should catch Bonds towards the end of his career. Pujols is just the ultimate baseball player. That is why he just got paid by the Angles.
We've witnessed some of the greatest players baseball has to offer last decade. This one is about to bring on more.