Over the Middle: Top 5 Fantasy WRs for Week Two
Week one has come and gone, setting a new record for most touchdown receptions with sixty-three. While nobody could of predicted Peyton Manning would go off to the tune of seven touchdown tosses, this guy will try and predict which wide outs will strike gold for you week 2.
So lets not waste time and get right to it.
Wes Welker, Broncos- @ Giants 
For starters, his quarterback is Peyton Manning, which is usually enough, but there are additional reasons to have faith in Welker. The New York Giants constantly sub in fresh bodies, keeping a very active front four, priding themselves on putting pressure on the quarterback. The best way to counteract this is working the short underneath routes, a Wes Welker specialty. If you're in a PPR league, expect roughly ten catches and most likely a one hundred yard performance. Those of you in a standard league, Welker should garner a few red zone targets turning that into clutch fantasy points.
Larry Fitzgerald, Cardinals- vs. Lions
Arizona finally has a bonafide quarterback who not only can run the offense, but knows how to get the ball to his playmakers. Also, the emergence of Michael Floyd attracts attention away from Fitz, not that he needs it. This guy makes catch in traffic, and over the top of defenders. Whether he's scoring at a distance or scoring in the red zone, all this guy needs is a QB who can sling the rock, he'll do the rest. Playing a suspect secondary in Detroit should make for a big day for Larry Fitzgerald.
Julian Edelman, Patriots- vs. Jets
With no true clear cut number one option in New England, it falls to a group of relative unknowns to get the job done, and Edelman will lead that charge, especially with Danny Amendola all but ruled out for this week. Edelman was the number one red zone option week one against Buffalo, and I see no reason for that to change considering the circumstances. Without all of his other weapons, Tom Brady will be looking Edelman's way early and often, making him a must play in both PPR and standard leagues.
Jordy Nelson, Packers- vs.Redskins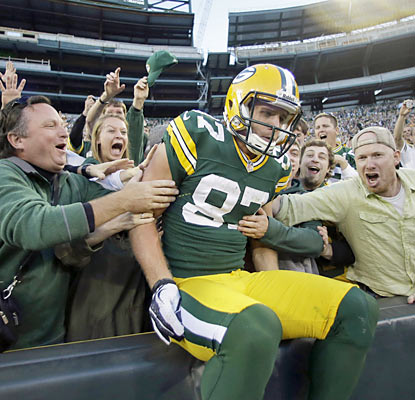 In week one, Nelson was clearly the best wide receiver on the field for Green Bay. While you can argue Randall Cobb will take away targets, its the quality of looks that Jordy will get the puts him on the list. Nelson has the unique ability to not only catch the short to intermediate routes, but also possesses the speed to beat defenders deep. Nelson's circus-like catches has helped him build a great chemistry with Aaron Rodgers, and in turn Rodgers looks to him repeatedly. Spending most of last year on the sideline due to nagging injuries, Nelson is now healthy and a must start this week. You'll thank me for it.
Vincent Jackson, Bucs- vs. Saints
Playing New Orleans usually means one thing, shootout time. Matt Ryan lit up this secondary for 304 yards and two touchdowns for the Falcons in their week one matchup with the Saints. V-Jax, an often overlooked wide receiver, is a premier deep threat with a large amount of targets. Early on I expect to see a lot of play action with Jackson coming in behind the linebackers as they react. Should Tampa find themselves down, which is very likely, the run game will fade and the Bucs will go more vertical with Jackson being the beneficiary of Freeman's big arm. Either way as a fantasy owner of V-Jax, you win right?
By: Ryan Alexander- Sports-Kings Contributor