NBA drafting is the most critical in all of sports. It's imperative that your high draft choices don't become NBA draft busts or you set your franchise back years. Some say luck even plays a role in this, as you must be fortunate enough to hit it big in the draft lottery. Teams like the Los Angeles Clippers have had several years of draft busts, while a team like the San Antonio Spurs drafted David Robinson first, then got lucky and struck gold with Tim Duncan. That is the exception however, as it is more likely that teams will strike out than to even nail one pick. So without further ado here is your top 10 biggest draft busts of the 2000s.
Honorable Mention
Shaun Livingston – Injuries derailed his career
Jay Williams – Ditto, both him and Livingston could have been ballers
Sheldon Williams – Bust
Joe Alexander – Trying to hang on
10.) Yi Jianlian
Points Per Game: 8.5
Rebounds Per Game: 5.3
Assists Per Game: 0.8
Draft Year: 2007-Round 1 (6th overall)
Yi Jianlian was one of the toughest players to figure out. First, we aren't even sure of Yi Jianlian's age. Reports surfaced that he was really two years older than he said  he was. Fast forward to him getting drafted and initially declining to sign with the Milwaukee Bucks for several months. Well looks like the joke is on Jianlian because he's currently looking for employment. Getting called the "The Chairman" by ESPN writer Bill Simmons didn't help either. Simmons coined this nickname because any footage we saw of Yi Jianlian was of him posting up a chair. Usually 7 footers in the NBA are a rare commodity which makes it all the more perplexing why Yi keeps bouncing around every year with new teams. He'll be back in China soon.
9.) Dajuan Wagner
Points Per Game: 9.4
Rebounds Per Game: 1.4
Assists Per Game: 1.9
Draft Year: 2002-Round 1 (6th overall)
Wagner was one of the most hyped athletes coming out of high school. In fact he scored 100 points in a high school game, while averaging 42.5 points per game as a senior. Wagner went on to Memphis for a year before jumping to the NBA with high expectations. Compared to Allen Iverson because of his explosive scoring ability. Wagner never panned out after a decent rookie season, he would only go on to play another three years. He only played 103 games in four years.
8.) Stromile Swift
Points Per Game: 8.4
Rebounds Per Game: 4.6
Assists Per Game: 0.5
Draft Year: 2000-First Round (2nd Overall)
Swift was the epitome of athleticism. At 6'10" Stromile could play either the power forward or center positions. Swift never really got it as he bounced around the league. He still managed to play nine seasons. Still, he never lived up to his expectations of being the number two overall pick in the 2000 draft.
7.) Marvin Williams
 Points Per Game 11.7
Rebounds Per Game: 5.3
Assists Per Game: 1.4
Draft Year: 2005-First Round (2nd Overall)
Coming out of North Carolina, Marvin Williams' upside was so high that the Hawks made him the second overall pick of the draft despite the fact that he came off the bench at UNC. Since then he has done little to justify Atlanta taking him with the second pick and worse he's a candidate to be amnestied with his 5-year $40 million contract he signed in 2009.
6.) Nikoloz Tskitishvili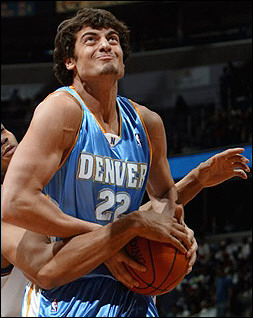 Points Per Game: 2.9
Rebounds Per Game: 1.8
Assists per Game: 0.7
Draft Year: 2002 First Round (5th Overall)
Wildly considered one of the worst draft picks ever. The 7 foot center never got anything going in the NBA. Somehow he managed to hang around for four seasons, but never started a game after his rookie year. What's sad is, this guy made nearly $9 million over his short stint in the NBA while producing close to nothing. Tskitishvili is currently playing overseas as well.
5.) Hasheem Thabeet
Points Per Game: 2.3
Rebounds Per Game: 2.8
Blocks Per Game: 0.9
Draft Year: 2009 First Round (2nd Overall)
Since entering the league, Thabeet has done next to nothing to prove his high selection. In fact he hasn't even started a game since his rookie season. You know it's bad when you get sent to the NBA Developmental League during your rookie season. He was the highest drafted player to ever be sent to the D-League. Thabeet was traded his second year in the league, and once again sent down to the D-League. I have a feeling it's only a matter of time before Hasheem Thabeet is playing overseas.
4.) Adam Morrison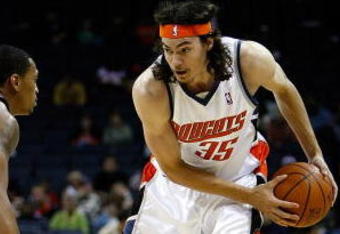 Points Per Game: 7.5
Rebounds Per Game: 2.1
Assists Per Game: 1.4
Draft Year: 2006 First Round (3rd Overall)
What drives me nuts is the fact Adam Morrison has two NBA championship rings. Another splendid pick by Michael Jordan, Morrison never materialized, and since has bounced around the league. Recently Morrison was released by his overseas team KK Crvena Zvezda. I'm guessing that can't be a good sign. Morrison started only 28 games in his short career and played a total of 161 games. Coming out of Gonzaga, he was one of the most decorated college players of all time. This however didn't transfer to the pro's very well. We've probably seen the last of Morrison.
3.) Kwame Brown
Points Per Game: 6.8
Rebounds Per Game: 5.6
Blocks Per Game: 0.6
Draft Year: 2001 First Round (1st Overall)
Kwame has had it tough in during his tenure in the league. It probably didn't help that he was Michael Jordan's whipping boy. Apparently during pre-draft workouts he told then coach Doug Collins that if the Wizards drafted him they won't regret it. So much for that. Somehow Brown has stuck around the league, and amazingly after his most recent contract with the Golden State Warriors, he'll have earned close to $60 million during his career. WOW!
2.) Darko Milicic
Points Per Game: 6.1
Rebounds Per Game: 4.3
Blocks Per Game: 1.3
Draft Year 2003 First Round (2nd Overall)
Not really a big surprise here, as Milicic is on most people's "bust" lists. The Detroit Pistons were in a quagmire due to the fact they really didn't need guard or wing help so they passed on Carmelo Anthony. Instead they took the highly touted overseas player Darko Milicic. This didn't pan out very well, but Milicic has found a way to hang on in the league as he's bounced around the last few years. The crazy thing is Milicic is only 26 years old and hasn't reached his prime yet. Seems like he's been in the league forever. He's had some decent seasons, and if he ever could put together at least a year or two of solid ball he may move down from bust lists like this, but that remains to be seen.
1.) Greg Oden
Points Per Game: 9.4
Rebounds Per Game: 7.3
Blocks Per Game: 1.4
Draft Year: 2007 First Round (1st Overall)
Oden not only looks like he's 47 years old, he also has the knees of a 47 year old. His story is more sad than anything. He's been in the league since 2007 and has only played 82 games. He is only 23 and being 7′ tall and athletic, he still has a decade left if he could get healthy. He doesn't have much wear and tear from playing either. Still even with all the hypotheticals, the Blazers made Oden; who was supposed to be the next great big man the number one overall pick in the draft. This was important because they passed up  Kevin Durant, who's become one of the best players in the league. Maybe Oden turns it around, but with his latest setback it's looking more and more like he may have to call it a career.
-Senior Writer Jason Whitney
Follow Us:
Twitter: RealSportsKings
Facebook: Sports-Kings