"Kevin Durant needs to perform well in order for the Oklahoma City Thunder to win the NBA championship." Well, thanks, I didn't really know that, appreciate the in-depth analysis. How many times have you heard experts pass statements like this off as actual information? Do we NOT know that KD needs to KD in order for OKC to win? I would hope so at this point, but what about the guys that we don't notice making a difference on the court? That's what I want to focus on. I know KD needs to be KD, but who else needs to be special in order for OKC to take the championship home, and the other four contenders for the title for that matter? Well, let's break it down.
I present: The Top 5 X-Factors to the NBA Championship
5. Thabo Sefolosha, Oklahoma City Thunder
Let's be honest, the Thunder are essentially a three-man team in terms of production. Durant, Harden, and Westbrook (in that order… yeah, I said it) are the most crucial components of this teams success, and create everything on the offensive end. When you have those three guys, the main thing you need is a guy that can knock down an open shot, and that is a lot harder than people think. Sefolosha is this team's do-it-all dolly for three crucial components of the game. He is a great on-ball defender, brings consistent energy, and is a knock down three-point shooter. OKC will need him to perform all three of these components on a exceptionally high level to have a shot at the title. If Sefolosha can bring that, this team can take it all the way, this year.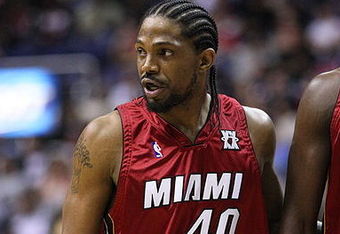 4. Udonis Haslem, Miami Heat
There were two things that stopped Miami from delivering it's first of seven titles to South Beach in the Big Three era.(I swear that video never gets old) The obvious factor was LeBron James' disappearing act in the Finals, but the less publicized reason was Udonis Haslem's health. People keep telling me that the Heats bench is deeper this year, but Haslem's importance has hardly been diminished. Seriously, have you seen Miami's front line behind Chris Bosh?
Stop me if I say a name that you think will contribute to a championship team: Eddy Curry, Dexter Pittman, Juwan Howard, Ronny Turiaf. Yeah, you didn't even consider stopping me once, which is why this team needs Udonis Haslem to be and play 100% come championship time
3. Stephen Jackson, San Antonio Spurs
The San Antonio Spurs made a calculated risk upgrading from Richard Jefferson to Stephen Jackson, and here's why. They need 2012 Stephen Jackson to be 2003 Stephen Jackson, but a lot has happened in those nine years.
He went from crucial bench player to star of a team, a plethora of bad teams, but a star nonetheless. Now, they are asking him to transition back to a crucial bench player. This is a lot like asking an actor who starred in a TV show, and then became a movie star to go BACK to starring in a TV show. Moral of the story is it probably won't happen. Once you have experienced being "the guy", it is hard to not be "the guy" anymore. With all that said, if anyone can get this headcase to do it, it is Coach Pop.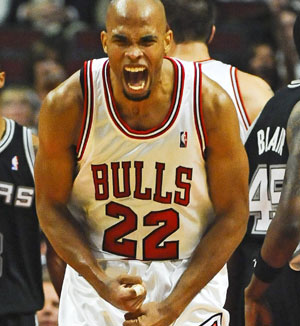 2. Taj Gibson, Chicago Bulls
I was THIS close to going with Brian Scalabrine, but then I remembered he's as valuable to the Bulls as the Samalian schilling. There is no way that I am the only person that lays awake at night wondering how Brian Scalabrine has made more money than I will ever see in my lifetime. I can't be. Back to actual basketball analysis.
Aside from the obvious contributors, Gibson may be the key to Chicago's success. You see that face above? He needs to bring that in the playoffs. The reason I love the Bulls is because they are resourceful, and it has shown with their 12-5 record without their captain Derrick Rose. Guys like Gibson are big contributors to that. If he can bring that intensity off the bench against Miami in the Eastern Conference Finals (and in case you're wondering, I have conceded that this will be the match up. My apologies, irrational Knick fans who have been bamboozled to think you will win more than one game against Miami or Chicago in a seven-game series,) then they might have a real shot against the Heat. I remember last year when Gibson totally psyched Chris Bosh out; that's what they need. Deng can contain LeBron to a degree, and the Rose/Wade numbers can be a wash, but they need to stop Bosh. Gibson will be key to that.
1. Lamar Odom, Los Angeles Lakers Dallas Mavericks
Here is why Lamar Odom is number one on this list. Except for Stephen Jackson, the guys listed above can still have bad nights, and their teams can win a championship. With Jackson, it is actually the opposite effect, even if he does embrace his role, it is still plausible that San Antonio is not good enough to beat other contenders in a seven-game series.
With Dallas, it is going to be Lamar or bust; I firmly believe this. Maybe it is because I have been on the Odom bandwagon all season, maybe it is because I watch too much Khloe and Lamar, but I think Lamar will come through big come playoff time. In turn, I think the Lakers will fall in the playoffs and Lakers fans will be thinking "wow, we really could've used Odom in that series." To me, he is the key to the ring this year. The Mavs simply are not good enough to not have Odom playing at a high level, but if he does, they really have a shot at the repeat. Something in me just thinks that OKC has one more year of growing up to do before they are in position to win a title, and after them, it is really a bunch of identical teams that could beat one another in a game on any given night. Odom's ability to control the game, and play within an offense will really leapfrog Dallas over all of the other contenders (SA, LAL, LAC, DEN), but without him. They don't have a shot.
Don't make me look like an idiot, Lam Lam. Get it together.