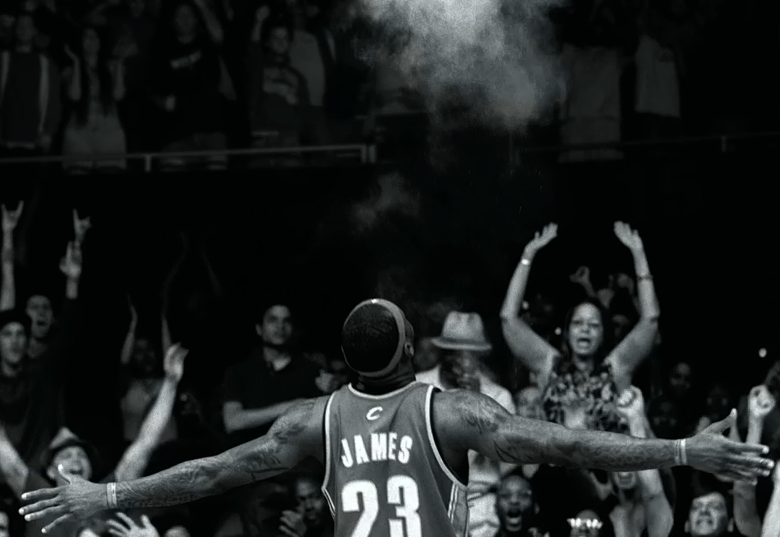 Around this time a year ago, Scottie Pippen was dubbing LeBron James "the greatest player ever." Well, by that he said he was better than Jordan. At the time the LeBron, and the Heat were on their way to the NBA Finals after beating the Chicago Bulls four games to one in the Eastern Conference Finals. However, LeBron's Heat went on to lose the NBA Finals that year to the Dallas Mavericks, leaving him still without that elusive championship ring. So, LeBron certainly isn't better than Jordan…yet.
But LeBron is better than a lot of the other all-time greats by now. He's played nine years in the NBA, all of them at a remarkably high level. He has won three MVP awards in four seasons. Three MVP awards? Kobe Bryant doesn't even have that many. Three out of nine seasons the voters believe he was the best player in the game. So he's been the MVP 1/3 of the time in his career. And I'm not stretching anything by saying he was robbed by Derrick Rose last year. Don't get me wrong Rose had a great year, but LeBron put up better numbers. Check out the player comparison here. 
LeBron puts up very similar numbers to players like Jordan, Magic Johnson, and other NBA All-Time greats. Just check out the LeBron and Magic comparison through their first nine seasons.
For those of you who are linkably challenged, I posted some key numbers below.
LeBron – 27.6 Ppg, 6.9 Apg, 7.2 Rpg, .569 TS%, 133.3 Win Shares
Magic – 19.1 Ppg, 11.0 Apg, 7.3 Rpg, .604 TS%, 104.2 Win Shares
I find LeBron and Magic to be very comparable players. Both have control of the ball most of the time, while being one of the bigger players on the court. These two players could play every position on the floor. Who's better? Well, Magic Johnson is. But Lebron still has a lot of years left, and will likely surpass Magic's 13 seasons played. So he could very well be considered to be better than him when he's done. To me, and a lot of other people, Magic is considered the second best player in NBA history. What does that mean if LeBron can catch up to him?
Michael Jordan, Magic Johnson, Shaquille O'Neal, Kareem Abdul-Jabbar, Wilt Chamberlain, Julius Erving, Oscar Robertson, Hakeem Olajuwon, Tim Duncan, Kevin Garnett, Kobe Bryant, Karl Malone, and Moses Malone are all better than LeBron, in terms of their overall careers, as of now. That makes LeBron the 14th best player in NBA history, at least in my standards.
All of these players have either slightly better stats, a long tenure, or have won multiple championships. Giving them the edge over LeBron. He has plenty of time to move up on the list. One championship and he leapfrogs a few of these guys. The list about is not in any particular order.
Obviously I'll get some heat (no pun intended) for putting James ahead of Bird and even Russell. I'm personally not a fan of Russell's game as much as the others. Just because he won a ton of championships does not mean he's considered to be a top 10 player of all-time. In Russell's era I'm sure it was easier to grab boards, considering he averaged 19.1 of them a game.
As for Bird, I'll give you that. Personally I don't see Bird better than LeBron, but I can see why some people do. He's a winner and winners get special treatment. He also did put up 24 ppg, 10 rpg, and 6 apg. I'm on the edge there, but I'll give it to LeBron.
Just so I give the Kobe fans something to talk about, LeBron is better than Kobe as of now. If he keeps up this pace he'll easily pass him when his career is all said and done. That is all on that tiresome subject.
What James has to do now is win championships. Not one, not two, not three, not four, not five, not six, not… Well you get the point. He has to be close to Jordan when he finishes to move up a ton of spots in the eyes of the fans. In my opinion if you called him a top five player of all-time right now I wouldn't contest. LeBron's numbers are that good, but he has to figure out a way to win. The championships are what immortalize you. We live in an era where all anyone cares about is rings, even if it's just a small part of your career. (NBA Finals is 7 games at most. The regular season is 82 games. That's .085 of an NBA regular season. Now try and put that on a career perspective for someone like LeBron who's in his ninth season in the league.)
It means something, it shows you had what it took to win a championship. We should still give LeBron the credit for what he does on the court. He took that horrific Cavaliers team to the NBA Finals back in 2007, and consistently brought Cleveland into the postseason as a number one seed. He just didn't have the help in the playoffs he needed to win. It took us one year to realize how bad the Cavaliers really were outside of James (the LeBron-less Cavaliers finished with the worst record in the NBA the year after he left).
He's going to go down as an All-Time great. He already is. When LeBron retires I have a feeling we're going to embrace him because he gave us no other choice. He'll finish as a top two player all-time. Let the real Jordan vs. LeBron debate begin.