If you saw the above title about two years ago, you would have surely laughed in my face. Hell, I would have laughed in my face. At that time, any Giant fan would concede this point: we had to rELI on the inferior Manning. However, given recent events, it seems like it may be time to sit down and give that aforementioned conceded point a second glance.
There is a variety of factors that go into analyzing the quarterback position. Stats play a crucial role, but so does leadership and the ability to perform under pressure. Honestly, as I am writing this intro, I haven't made a decision yet, so let's jump into the numbers and intangibles and see which of these statements is correct:
Is Eli still just Peyton's younger brother? OR Is Peyton now just Eli's older brother?
The Names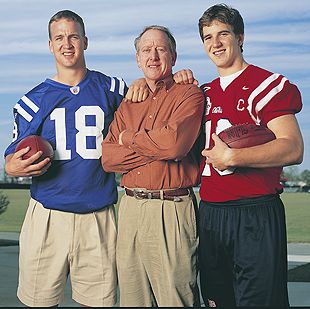 Peyton Williams Manning vs. Elisha Nelson Manning
Note to self: Never consult Archie Manning when naming my children.
Advantage: None.
Okay, okay. Let's do this.
Career Numbers
Peyton: 208 Games Started, 64.9 Comp %, 54,828 Yds, 399 TDs/198 INTs

Eli: 119 Games Started, 58.4 Comp %, 27,579 Yds, 185 TDs/129 INTs
I don't think there is any question here.
Peyton's numbers are overwhelming. A virtual 2-1 TD-INT ratio, going on 55,000 yards and of course his well-documented (prior to this season) durability. His 64.9 Comp % ranks 5th all-time, and he is 3rd all-time in both yards and touchdown passes. Keep in mind, he (probably) has at least two Peyton-caliber seasons left in him.
Related Side Note: It has really been starting to irritate me how much flak Peyton is catching lately. As sport fans, we are so blinded by the moment that we completely forget greatness, as I wrote about Brady and Rodgers.
Let us be clear about something; Peyton Manning is a first ballot hall-of-famer, and is twice the quarterback that Andrew Luck is right now. I am baffled by this whole "Trade Peyton" movement. If he is healthy, he is still one of the top five quarterbacks in this league. Granted, I am not as high on Luck as most (I'd rather have RGIII. Vick 2.0, but he's bigger and will be more durable), but even those that are huge on Luck can't possibly think he is a more viable option than Peyton. Well, I guess they can, because they do. *jumps off soap box*
It is very poetic that Eli's career numbers… sum up his career. Eli's numbers, like Eli himself, are incredibly inconsistent. I think I speak for every Giant fan when I say you legitimately have no idea which Eli (and which Giant team) will show up on any given week. *cut to all Giants fans nodding in agreement* One week, he will be throwing beautiful back-shoulder passes to Nicks, and the next on his back foot throwing a floater right into the defense's hands. I would venture to say roughly 118% of bad Eli throws come when he is on his back foot.
Advantage: Peyton
"Clutch Gene"
This is the part where all Peyton supporters go "uh-oh", but you would be surprised how well he translates in this category.
Peyton has 35 fourth-quarter comebacks, and 46 game-winning drives, which actually ranks him 3rd all-time behind Marino and Elway in both categories. That's…pretty good company. For all the criticism he receives, the stats certainly seem to indicate that Peyton Manning is indeed a clutch quarterback.
Eli, in half the time, has 19 4th quarter comebacks, and  23 game-winning drives. If you extrapolate that out to match Peyton's games started, which is foreseeable since Eli has also never missed a game, he is right on pace to match Peyton in each category. It is interesting to note that six of those game-winning drives came in Eli's Super Bowl run, including one in the Super Bowl itself, and six have come this season. For the record, yes. Yes I did just watch that entire YouTube clip and relive my greatest moments as a sports fan.
Advantage: Tie.
It seems like the numbers indicate that both quarterbacks are indeed clutch, except…
Playoffs *insert beaten to a horse Jim Mora "Playoffs?!" joke*
Peyton has had his historical struggle in the playoffs, with a career 9-10 record, and one of the strangest things I have ever come across. His worst post-season stretch was the same stretch that rewarded him with his only Super Bowl ring.
Peyton's Super Bowl run did not include any game in which he had more touchdowns than interceptions, and primarily won that title because of his defense, and because he played Rex Grossman in the Super Bowl.
Eli, on the other hand, has shined in the postseason. He hosts a a 7-3 career playoff record, and is seven of his last eight overall. He has thrown multiple touchdowns in seven of those contests and has only thrown multiple interceptions in two, one of those being in his 1st career postseason contest. He has won five career road playoff games, most in the history of the league. Granted, that is a somewhat skewed stat. Yeah, it looks good and certainly is impressive, but the only reason you even HAVE to play on the road is because you underperformed throughout the season. That being said, Eli's playoff numbers are almost as impressive as Peyton's career numbers.
It should also be noted that Eli has arguably yet to reach his prime, and Peyton is presumably in it or even past it.
Advantage: Eli.
The Verdict
This is a lot tougher than I anticipated it being. My initial thought was that I was jumping the gun by thinking that Eli could possibly be better than Peyton. I thought I was being a biased Giant fan, and one of those people I have grown to hate; those who are blinded by the present and forget the past. I thought "he is still Peyton Manning, I'm crazy." Well, now that I have looked at the numbers, I no longer think I am crazy (I mean I still think I am crazy, just not in the context of this discussion).
Eli really does have that "it" factor. A great quarterback has the same mentality that a great shooter has in basketball. It does not matter how many interceptions or bad passes they have thrown, or how many shots they have missed throughout the game, they want the ball. They know they are going to make that perfect throw, and that they are going to make that last shot. The past doesn't matter; they have the confidence in their abilities to know that they will always have the capability to make the play.
That is the biggest difference between Peyton and Eli.
It seems like Peyton remembers too much, and that might be what also makes him so great. I am of the belief that your greatest flaws are also your greatest strengths. For example, in the right situation a stubborn person can also just be seen as persistent, depending on the outcome of the situation. Peyton's inability to forget his previous bad passes is the same thing that gives him the ability to memorize his playbook and know defensive tendencies better than any quarterback we can remember. He is a genius, and that is probably his biggest strength, and his biggest flaw.
Eli, on the other hand, throws a bad pass, and just makes that dumb look that all of Giant fans cringe when we see because it always seemed like he just didn't know what was going on. The more that we see that look in this successful season, we now rationalize it as his "getting the play off of his mind" look, because we are fans, and that's what we do. In our defense, the numbers seem to back up our rationalizations. Eli just seems to have the ability that his brother does not, to focus on the present and leave the past plays where they belong, out of sight and out of mind. Maybe that's what I need to do right now, and just go with what the numbers inexplicably indicate.
Peyton Williams Manning is now just Elisha Nelson Manning's big brother.
By: Frank Santos– Lead Columnist