It is much easier to draft a bust than it is a superstar. It is this sole reason that NFL teams poke, prod and test their potential draftees ad nauseam. The NFL draft has become so popular that it has become its own event, which, in turn, has increased the stakes for those looking to make a name for themselves in the NFL. Here is a look at the top 10 first round busts since 2000.
10.) OL Robert Gallery – Oakland Raiders – 2005 (2nd Overall) University of Iowa

Not many players earn a perfect 9.0 scout rating going into the NFL Draft, but that is exactly what Gallery did. The distinction pushed the Oakland Raiders to draft him to help shore their ailing offensive line. However, that wasn't the case as Gallery struggled. He allowed the fourth-most sacks in 2006 with 10.5 sacks, after only playing in 10 games that season.
The Raiders decided to cut bait after the 2010 season, where the Seattle Seahawks signed him to a three-year deal. He was moved from tackle to guard and has since seen limited success. However, Gallery has yet to live up to the hype he received leading up to the draft.
9.) QB Brady Quinn – Cleveland Browns – 2007 (22nd Overall) University of Notre Dame
The Notre Dame Fighting Irish product was highly touted coming from a Charlie Weis coached offense, which also crafted Tom Brady's career in New England. Quinn won many national college football awards and helped the Irish return to the BCS bowl picture under Weis' tutelage. During the combine and private workouts, many scouts saw that Quinn was terribly inaccurate and lacked any touch on his short and intermediate passes, stemming from poor footwork.
After being drafted by his hometown Cleveland Browns with the 22nd pick – many analysts thought he would be taken in the top 10 – he held out and missed 10 days before reporting to training camp. He only played one game in 2007, and Derek Anderson was named the starter for 2008. Finally, Quinn won the starting job in 2009, but was benched only three games in, in favor of Anderson. In 2010, Quinn was traded to the Denver Broncos for Peyton Hillis and now sits behind Tim Tebow.
Career Stats:
1,902 passing yards
10 touchdowns
9 Interceptions
66.8 QB Rating
8. QB Matt Leinart – Arizona Cardinals – 2006 (Tenth Overall) University of Southern California
Matt Leinart was a recipient of many college accolades while attending USC. He was cut from the same mold as another great USC quarterback, Carson Palmer – whom he succeeded. Both quarterbacks won the Heisman Trophy and both came into the NFL with high expectations. The knock on Leinart was that he was a "system QB" who didn't have the necessary arm strength to make all the throws required for the position. As a result, he fell in the draft from a consensus top three pick to just barely being selected in the top 10.
Leinart struggled during his first training camp, stemming from a holdout, which led the Cardinals to name Kurt Warner as the starting quarterback going into the season. His first season wasn't a complete bust though, he threw for 2,547 yards and 11 touchdowns in 11 games. However, injuries and effectiveness by other players made sure Leinart wouldn't see anymore time as the Cardinals QB. He lost his job to journeyman Derek Anderson, and rookies Max Hall and John Skelton in 2010. He was later signed by the Houston Texans and was injured in his first game after being substituted for the injured Matt Schaub. With three season-ending injuries to his name, Leinart is climbing the list of NFL Draft busts.
Career Stats:
3,950 passing yards
15 Touchdowns
20 Interceptions
71.6 QB Rating
7. DE Courtney Brown – Cleveland Browns – 2000 (First overall) Penn St.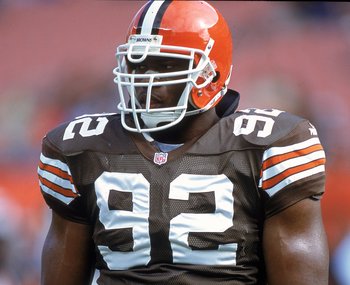 First overall picks are largely judged unfairly. In the case of Courtney Brown, he showed great promise after being drafted by the upstart Cleveland Browns at the turn of the millennium. Not many could fault the Browns for drafting a player who was a multiple conference award winner at his position and a finalist for every major college award while attending Penn State.
However, as with many promising careers, injuries derailed his quest for greatness. After a productive first year in which he amassed 70 tackles and 4.5 sacks, Brown was hit with the injury bug that would plague his short NFL career. After the Browns refused to re-sign him in 2005, the Broncos signed him as a backup. But again, injuries piled up and forced him out of football after suffering an ACL tear in his left knee during the 2006 playoffs. Subsequently, he left the NFL in 2007.
Career Stats:
156 Tackles
19 sacks
6 forced fumbles
6.) DL Amobi Okoye – Houston Texans  – 2007 (Tenth overall) University of Louisville
Okoye has the distinction of being the youngest player to ever be drafted in the first round. In the previous year, the Texans drafted DE Mario Williams and LB DeMaco Ryans, and hoped that Okoye would help solidify the middle of the Houston defense. However, Okoye was the odd man out of the big three. He was largely ineffective outside winning the NFL Rookie of the Month award in his first month as a pro, where he contributed four sacks. After four seasons with the Texans, he was released and signed with the Chicago Bears.
Career Stats:
162 tackles
15.0 sacks
2 forced fumbles
5.) DE Vernon Gholston – New York Jets – 2008 (Sixth overall) Ohio State University
The Ohio State University has been a hot spot of defensive lineman talent over the years and in 2008, Vernon Gholston was the next player to continue the lineage. He was drafted sixth overall by the New York Jets, who were in need of a run-stopping lineman. However, Gholston never realized his potential after having great career for the Buckeyes where he won multiple Big Ten first-team honors and awards. He was truly a force in college, but that did not translate to the professional game, where he only accumulated 42 tackles over his short career.
To his defense, he was converted from his normal defensive end position in the 4-3 to an outside linebacker in the 3-4 defense, then back to his native defensive end spot when Rex Ryan took over in 2009. The Jets released him early in 2011 and later signed with the Bears, only to be released before the start of the season.
4.) WR Charles Rogers – Detroit Lions – 2003 (Second overall) Michigan State University
Another of Millen's bad or questionable draft picks came in the form of Charles Rogers. He came off a stellar year in 2002 for the Michigan State Spartan where he won the Biletnikoff Award for best wide receiver in college football. This prompted the Lions organization to select him second overall – before his more accomplished counterparts Andre Johnson (third overall) and Anquan Boldin (54th overall).
Injuries, poor work ethic, and off the field issues led to his demise as an NFL player. Most notably, he had trouble with prescription drugs and marijuana, which led to his arrest in 2010 where he served jail time. Furthermore, he was court ordered to return most of his rookie signing bonus to the Lions.
Career Stats:
36 Receptions
440 Receiving Yards
4 Touchdowns
3.) QB Joey Harrington – Detroit Lions – 2002 (Third overall) University of Oregon
There was a time during the early 2000s that the Detroit Lions were led by Matt Millen, who effectively had a string a bad or questionable first round picks. No one could blame Millen for taking a quarterback with the third overall pick in 2002, but Harrington struggled mightily over the course of his NFL career. Many blame the Lions organization for his woes, coupled with a terrible offensive line and a coaching staff that forced him into an offense that he may have not been suited for.
Harrington would make stops in Miami, Atlanta, and New Orleans with each team giving him a reduced role. Ultimately, he was released by the Saints in 2009 and is now out of football.
Career Stats:
14,693 passing yards
79 Touchdowns
85 Interceptions
69.4 QB Rating
2.) OT Mike Williams – Buffalo Bills – 2002 (Fourth overall) University of Texas
A bad draft can set a franchise back for ten years. Furthermore, outside the skill positions, offensive tackle is one of the keystones for any football team. As such, the Buffalo Bills selected the mammoth Williams with the fourth overall pick in 2002. However, the results were anything but successful. Pre-draft, many analysts pegged him as one of the offensive lineman, but after joining Buffalo, he moved from his native right tackle position to the pressure-packed left tackle spot. This move ultimately showed the lack of good footwork and quickness needed for that particular position.
After the undrafted offensive lineman/tight end Jason Peters signed and took over at the tackle position, Buffalo moved Williams to guard with similar disastrous results. Finally, attempting to get any sort of value out of him, they moved him to the defensive side of the ball in goal-line situations and was released in the 2006 offseason. He would later make stops at Jacksonville and Washington before being released, and is now out of football.
1.) QB JaMarcus Russell – Oakland Raiders – 2007 (First overall) LSU
A perfect storm occurred for Russell to be selected number one overall. Then Raiders owner Al Davis – known for his affinity for the deep vertical passing game – wanted a quarterback who could throw it downfield to his speedy receivers. However, Russell showed little to nothing justifying the $68 million contract with $31.5 million guaranteed he received, and within three seasons he was out of football. He was arrested in 2010 for possessing codeine syrup without a prescription.
There was no doubt about his big arm after showcasing his skills in the Sugar Bowl earlier that year against Ohio State. His accuracy left much to be desired and his off-field transgressions had many questioning his work ethic, even his teammates. Ultimately, he is now infamous for being one of the biggest busts in NFL history, not just in the past decade.
Career Stats:
4,083 passing yards
18 Touchdowns
23 Interceptions
65.2  QB Rating