Columnist: Joe F.
Winners :

1. Philadelphia Eagles :
The Eagles were a very good team before this free agency, but they're leaving free agency with an even better team. Everyone believed Kevin Kolb was going to be McNabb's successor. When he got injured and Vick took over that belief wasn't going to come true. Philly used their resources and turned Kevin Kolb into Dominque Rogers-Cromartie and a second round draft pick. That left them a hole for their back up QB. Like magic they land Vince Young. He'll be mentored by Mike Vick, who plays a similar style to Young. And Andy Reid, an excellent QB developer. They already had enough speed on offense with Mike Vick, LeSean McCoy, and DeSean Jackson.
If that wasn't enough they also signed first time pro bowl defensive end Jason Babin. Not sure if Babin will repeat the performance, but he was an excellent signing. The Eagles seem to have needed more pass rush. Babin has 12.5 sacks as a Titan, but the year before he only had 2.5 sacks the year before. The team he was with was the Philadelphia Eagles.
But what made Philadelphia the clear winner of free agency was what they pulled off yesterday afternoon. When reported Nnamdi Asomugha narrowed his choices down to the New York Jets and Dallas Cowboys we thought he'd choose one of those two teams. In the end he chose the Eagles. The deal was signed for 5 years at $60 million, $25 million guaranteed. It's as if the Eagles took notes from another certain Philly team when Texas and New York was involved. Cliff Lee anyone? With Nnamdi, Rogers-Cromartie, and Samuel in the backfield I'd be afraid to be an NFC East QB.
2. New England Patriots :
The Patriots two trades are really low risk and high reward. They received Albert Haynesworth for a 5th round pick in 2013. They also got Chad Ochcocinco from Cincinnati for 2012 and 2013 late round picks. Haynesworth showed zero effort in Washington, but New England is different. Bill Belichick doesn't take much nonsense. I really think that this move will work out in the end. It's a fresh start. Albert is a great talent that just needs to be motivated. The millions he's making isn't enough obviously. But Bill Belichick knows how to work these type of players to get their best. With Wilfork and Big Al clogging up the middle, no team is going to be running down the Pats throats.
Which is the reason they also went and got Ocho. Chad has some issues with the media. He's a twitter clown and doesn't know when enough is enough. I think he's ready to mature a bit though. Like Randy Moss, Chad seems to be at the latter part of his career, but he still has some talent left in the tank. Tom Brady can bring that talent back out, and 2007 is a reason to believe so. Chad may not be the best vertical threat, but you can be sure that he'll open up the pass game. You've seen Tom Brady with and without weapons. These two moves have to put the Patriots as Super Bowl favorites. Ochocinco will be wearing 85 in New England. Aaron Hernandez will have to get a new number.
3. Houston Texans :
The Texans are one of the smarter teams out there. They pulled out of Nnamdi sweepstakes and signed Johnathan Joseph instead. What a great move because it costed less money and it's not a dramatic drop off in level of play. Is Nnamdi better than Joseph? Yes, but it's not a huge drop off in talent. Excellent move in my opinion and they didn't wait around for Nnamdi losing other free agents like some other teams.
The leagues worst pass defense was determined to fill this need. Houston also signed Danieal Manning. He's one of the better safeties in this free agency and is a major upgrade than Bernard Pollard. Sure Manning may not be a ball hawk, but the Bears boasted one of the top defenses in the league, and he was apart of it. Plus he's actually a good return man too. Houston filled two needs with one guy.
4. St. Louis Rams :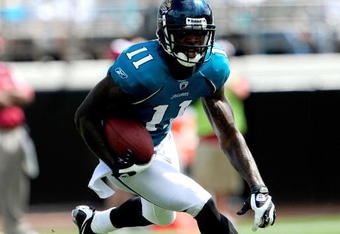 The Rams did really well in free agency. They signed Harvey Dahl to protect Sam Bradford and open up holes for Steven Jackson. St. Louis also went out and signed themselves a wide receiver for him. Mike Sims-Walker was a red zone threat for David Garrard in Jacksonville so he should provide Bradford some help. He threw for 18 touchdowns last year with guys like Robinson and Amendola as his wide outs. I'd imagine he'd reach over 20 next year with a guy like Sims-Walker who's steady in production. In his last two seasons he's put up 7 touchdowns each.
St. Louis also sured up their secondary. Al Harris isn't what he used to be in Green Bay, but Spagnolo likes his psychical play. He should turn into their slot corner. They also signed saftey Quinten Mikell. He should help their cornerbacks over the top. Like I said St. Louis did very well this week.
5. Carolina Panthers :
The Panthers won due to mostly getting their guys back. Signing DeAngelo Williams was the key for them. If you're going to have Cam Newton as your QB then you're going to need a good running game. Ron Rivera won't be a pass first coach in Carolina right away. Getting Williams back you also keep intact the great duo in the back field with Stewart. Carolina also keeps Charles Johnson by resigning him to a monster contract. That would be 6 years $76 million. He'll anchor the end of the defensive line in Carolina.
Ron Edwards was also signed to help the defensive line. They seem to want to stop the opponents rush next season after having the leagues 23rd worst rush defense. The big trade they made was for the Bears TE Greg Olsen. It seems Jeremy Shockey will be the second TE in Carolina.
Losers :
1. All of the Nnamdi chasers :
The Cowboys, Jets, and 49ers are the big losers here. While the Eagles and Texans were in the chase they either signed him or pulled out before they lost other key free agents. The Cowboys lost out on some big secondary help. There was so much in this years free agency. They had a huge need for secondary help and they haven't signed one yet. Plus they're pass rush was terrible in 2011 even with Demarcus Ware and Jay Ratliff. The Jets lost out on signing their own guys like Brad Smith. The two maybes are Braylon Edwards and Antonio Cromartie. Nnamdi played both these teams.
2. Denver Broncos :
They have so many different needs right now and haven't made a single noticeable move. Miami needed a QB so why didn't they try to get something for Kyle Orton? The Broncos are going to be mediocre with or without Orton. So they should just test out Tim Tebow for the season. It's a win- win for Denver. If Tebow succeeds they found themselves a franchise QB. If not then you probably end up with the top pick and draft Andrew Luck.
3. Minnesota Vikings:
They got McNabb and lost him main weapon Sidney Rice to the Seahawks. McNabb isn't the QB he used to be and I don't think he really cares. He's one of the more melo players in the league. Wouldn't surprise me if Ponder was the Vikings opening day QB.
4. Miami Dolphins :
Yea they signed Reggie Bush instead of over paying on Bradshaw, but they didn't fill the hole at QB. Well they attempted to and signed Matt Moore to a 2 year deal. Not sure if the Dolphins know this, but the Panthers a team that's rebuilding got rid of him. They should have got a deal done with the Broncos for Kyle Orton. And they still haven't signed Ronnie Brown. Not that they had a chance with the Jets and Patriots in the division anyway.
5. Washington Redskins :
It's not that the Skins didn't get talent this off-season, it's that they overpaid in doing so. They signed the Giants DT Barry Cofield for 6 years, $36 million, and $12.5 million guaranteed. Also from within their own division they signed ex-Cowboys DE Stephen Bowen. He signed for a ridiculous 5 years $27.5 million. He's supposed reach his potential this year, but he's not worth that much money.