The NBA draft can be arduous at times. You think you have a sure-fire, can't miss prospect in the lottery and bam, draft bust! The pleasant surprises come from the NBA second round draft picks, who often times not much is expected out of them, yet some make a meaningful career. In some cases many go on to be all-stars and Hall of Famers. This list of the best NBA second round draft picks will be from the last 20 years, so keep that in mind when you don't see Willis Reed, Alex English, Tiny Archibald, or Calvin Murphy. If a player played prominently in the 90's I will add that player to the list as well. Enjoy!
Honorable Mention:
Steve Kerr
Mehmet Okur
Nick Van Exel
Marc Gasol
10.) Rashard Lewis
 CAREER:
 Points Per Game –  16.3
Rebounds Per Game – 5.6
Assists Per Game – 1.8
Lewis put up some great numbers during his time with the Seattle SuperSonics and the Orlando Magic. In fact, the Magic thought highly enough of him to sign him to a mega-contract. Oops!  That deal became possibly the worst contract the league has seen since…Allan Houston?
Still, the Pineville, Louisiana native is known around the league as a big man who can nail the three. With his super silky stroke, Lewis often times would play the 4-spot and punish bigs for not closing out. A mismatch on the offensive side, he often gave opposing coaches headaches.
9.) Stephen Jackson
 CAREER:
Points Per Game – 16.3
Rebounds Per Game – 4.0
Assists Per Game – 3.3
Jackson's a slight headcase, and that's probably an understatement. Still, Jackson has been a winner in most places he's landed. He's won a championship playing with the Spurs, and is capable of putting up 20 points in a game. He's been an all-around dual-threat, as he is creative with the ball and can help out on the boards. Jackson would have most likely benefitted from a stint in college, given how he struggled his first few years in the NBA. Then again, does anyone think Jackson would have been a studious kid?
8.) Tony Kukoc
CAREER:
Points Per Game -11.6
Rebounds Per Game – 4.2
 Assists Per Game – 3.7
One may think Kukoc is too high, given his relatively average numbers, but let's not forget he played with Michael Jordan and Scottie Pippen for the bulk of his prime years. Add in the fact that he didn't even come to the NBA until 1993, when he was already 25 years old, and Kukoc could have put up some monster numbers if he had had a career that started earlier. Kukoc missed at least five potential years in the NBA, while playing less than 30 minutes a game three out of the first four years of his career. He was another solid, all-around player with size and range. Too bad he didn't come to the NBA during the Mike D'Antoni era, he may have been a 20ppg, 8 boards, 5 assists type player.
7.) Monta Ellis
 CAREER:
Points Per Game –  19.4
 Rebounds Per Game -3.7
 Assists Per Game – 4.2
I'm sure Monta Ellis will shoot up this list as the years go by. He's a dynamite scorer with an explosive first step. I'm a huge fan of Monta Ellis, and the Knicks eschewed a chance to get him instead of Anthony Randolph. We've seen how that turned out, and I'm clueless as to why the Warriors continuously shop him around. 25 point scorers don't come around that often. Albeit, Ellis can be a black hole, but he is still unstoppable at times.  I'd expect to see his numbers start to peak around 25 ppg, 4 rpg, with 5 assists per game to boot. Too bad it probably won't be as a Warrior.
6.) Michael Redd
 CAREER
Points Per Game – 20.0
 Rebounds Per Game – 4.0
 Assists Per Game – 2.3
Redd has battled injuries the last five years of his career, but regardless he's put up stellar numbers for the Bucks. Six straight years he averaged at least 20 points per game. He also may have had the best shooting stroke in the game during that span. An unorthodox player, Redd had a knack for scoring in bunches. Injuries have derailed his career, but Redd is still a valuable commodity when healthy, seeing that he can space the floor and knock down the open three with the best of them. Redd still has a crack at reaching 15,000 points for his career, which would be quite an achievement considering all the games he has missed throughout the span of his time in the NBA.
5.) Carlos Boozer
 CAREER:
Points Per Game – 17.3
 Rebounds Per Game – 10.1
 Assists Per Game – 2.5
You can count on Boozer for two things: injuries and double-doubles.  Boozer played 70+ games in only five of his nine NBA seasons. He has, however, produced when healthy, as evidenced by his six seasons with a double-double average, and the fact that he's twice averaged at least 20 points per game ('07 and '08). Boozer is a beast when healthy and is the definition of a "steal" pick in the draft.
4.) Gilbert Arenas
 CAREER:
Points Per Game – 21.2
 Rebounds Per Game – 4.0
 Assists Per Game – 5.4
The sad thing about Gilbert Arenas is nobody is ever going to remember how good he once was. They will remember and point out the quirkyness, the suspension from the gun fiasco, and the ludicrous contract, among other things. Arenas was once labeled one of the leagues best and most explosive scorers, once even scoring 50 points in a game. Those days are gone, but the three year run Arenas had when he averaged better than 25 points per game was among the elite stretches of play in the past decade. I'm afraid "Agent Zero" may never get back to being even half the player he once was.
3.) Mark Price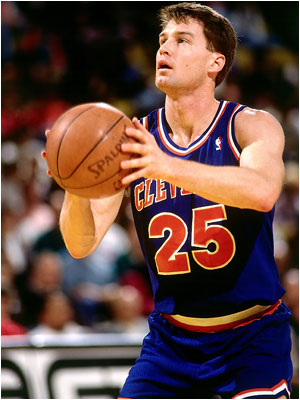 CAREER:
Points Per Game – 15.2
 Rebounds Per Game – 2.6
 Assists Per Game – 6.7
Price was a tricky one to add to the list, seeing that his prime years came towards the late 80's and early 90's. Regardless, Price was one of the best point guards of his era, and a true point guard at that. Despite the advent of the "combo" point guard position, Price remained a true point guard during his tenure. His career numbers would have been much better, had it not been for the last three years of his career in which his production declined significantly. In his prime years, Price was an 18-20 point scorer that would drop 8-10 dimes a game. That is as "solid as Sears", fellas. He led the Cleveland Cavaliers to winning records whileloyally sticking with the franchise…maybe LeBron should have taken some notes.
2.) Dennis Rodman
CAREER:
Points Per Game – 7.3
 Rebounds Per Game – 13.1
 Assists Per Game – 1.8
The "Worm" was never going to score you a bunch of points. Rodman however would bring a different facet to the game which would make him one of the best ever, and a Hall of Famer. That would be his defensive prowess. Rodman was no doubt one of the best defensive players and rebounders ever. He had years in which he averaged 18 boards a game. That, would be called "cleaning up the glass." His multiple championships and stints on several great teams, Rodman, although full-blown crazy, was one hell of a player.
1.) Manu Ginobili
 CAREER:
Points Per Game – 15.3
 Rebounds Per Game – 4.0
 Assists Per Game – 3.9
Stats really don't really tell the whole story of how good a player Manu Ginobili truly is. The stats reflect the kind of system Ginobili plays in. The 57th pick in the 1999 NBA draft, Ginobili is the best draft-day steal of all time. Manu has won several championships, including non-NBA titles won overseas. Manu, like Toni Kukoc, didn't come over to the NBA until he was 25 years old. Relegated to the "sixth man"  role many times, Ginobili often never cracked 30 minutes a game in a season, save for the 2007-08 and 2010-11 campaigns. I personally think he's one of the best players in his generation; he has ice in his veins, making clutch plays when it matters most. It's really almost t0o bad we couldn't see him play for team that is more aggressive and open in its approach. It would have been a thrill seeing a player of his caliber on the floor more.