Sports player logos are what defines a brand. Everyone can relate to the Jordan "jumpman" as one of the most iconic logos in sports. Thus showing the importance in this new era of the player individualism. The best sports player logos are ones that stand out, signifying that particular player. Sports players in this era are almost as concentrated on supporting their brand and establishing it, as they are the respective sport they play. Player logos started decades ago with one of the first being the NBA logo that Jerry West signature pose is featured on. Flash forward to now, and what player doesn't have their own logo right? Here are your top 10 best sports logos:
Honorable Mention:
Dwyane Wade – Would have made the list but switched from Converse to Nike
Steve Nash – Doesn't get displayed nearly enough
Blake Griffin – Won't be long
Chris Paul – Easily make the list as well
10.) Vince Carter
 There once was a time when Vincanity was supposed to be the next MJ. That didn't pan out, but his logo did have a nice run. I had to put Vince at number 10 because there was a time when Carter was the NBA's next great thing. His 2000 dunk contest was simply jaw dropping. In fact, I rate that the best dunk contest I've ever seen. The logo has seen its share of color changes lately with him changing teams often.
9.) Carmelo Anthony
 Looks kind of like a tattoo a muscle head would sport, right? Well with Anthony a member of the Knicks this logo will see even more exposure playing in the worlds most famous arena. 'Melo should have a monster year leading the Knicks back to prominence and with this should come a nice boost to his brand.
8.) Shaquille O'Neal
Shaquille O'Neal's logo definitely has some nostalgia to it. Anyone from the ages of 20-40 has this image ingrained into their skull. Doesn't help that we saw this image thousands of times during Shaq's 19 years of playing ball. With his recent move to the television booth, this only figures to expose Shaq's brand even more.
7.) Penny Hardaway
 Penny had it all in the 90's. From commercials, shoes, to a trip to the NBA Finals. Then like a lot of players, injuries derailed his career. I often wonder if his brand was a higher success than him as a player. Either way this logo is a fixture in our memories of the once great Penny Hardaway
6.) Tracy McGrady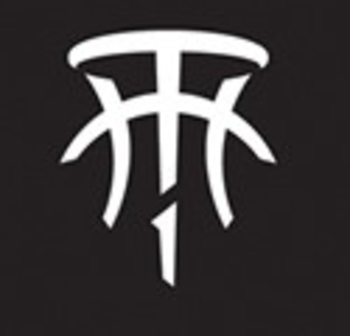 T-Mac and Carter, the parallels are scary. Cousins, injuries, teams, dunkers. At one time McGrady and Carter were said to be the future, now they're both trying to hang on and bouncing from team-to-team. T-Mac's logo still is one of the most recognizable out there.
5.) Allen Iverson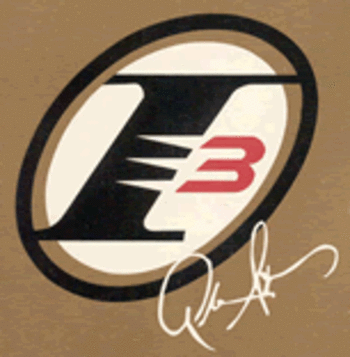 Somewhere the "Answer" is still floating around trying to latch on to another team. Iverson's logo really took off in the late 90's and into the 2000's. The logo would also be used on his shoes, as many fans can relate to this icon to the pair of kicks they wore. I really hope we can see Iverson one last time in the NBA, we all deserve to see his logo once more!
4.) Kobe Bryant
 "Bean's" logo is a pretty simple structure yet the point is made with this. Militant in a way, and serious. What better way to describe Kobe. The greatest player thus far of the 21st century probably could be higher on this list, but it's tough to envision a player as hated, and toss in a scandalous past being in a top three in what basically is a popularity contest.
3.) LeBron James
 Speaking of being hated, LeBron James and his team are about as hated right now as one could get. The difference between 'Bron and Kobe is that James was once loved where I'm not sure outside of L.A. Bryant has ever been that loved. I'm sure "The King" will be loved again by fans, but there is no denying  his brand and how big his empire is growing. There is a reason he is a perennial top seller in jerseys, shoes, clothing. Thus only two logos could possibly be better than his…
2.) Jerry West
 Maybe I'll take some heat for this, and maybe I won't. I tend to agree that the player is never bigger than the game, but I think I speak for most that would say the Jordan "jumpman" is as big as the NBA logo. Either way I think the difference is Jordan played in an era and is living in a time where the brand is what makes up the athlete. West played in the time where the only "brand" was Converse in which everyone wore. I see lists of best logos and I'm baffled how the logo of the NBA, Mr. Jerry West isn't on these lists! He's the logo for crying out loud!
1.) Michael Jordan
 The best sports silhouette ever. Maybe the best silhouette ever, at least in recent times. Anyway, I know another list in which Jordan is number one, but isn't that what we have all come to expect? The greatest, most dominant player ever has this image of him performing a ballet move as one of the top recognizable images anywhere.
Most people think this is a photo of Jordan performing a dunk. Shows you the hops and athleticism this guy had because I'm willing to bet most people couldn't display this image three feet in the air. Wow!
-Senior Writer: Jason Whitney
Follow Us: 
Facebook: Sports-Kings
Twitter: RealSportsKings