NBA players are usually the epitome of being in shape. Basketball is a game of continuous running and physical pounding, thus, being in shape is essential to performing at a high level. This makes it baffling to see players who are overweight, and huff and puff down the hardwood as if they need an oxygen tank at half-court. Often times this leads to criticism, but doesn't necessarily lead the overweight player to lose the extra poundage – see Shaquille O'Neal. Thus this might be the first list you don't see LeBron James, Blake Griffin, Dwyane Wade or Kobe Bryant on.
10.) Marc Gasol
Memphis Grizzlies center Marc Gasol has come a long way believe it or not. Gasol looked much worse back in high school. Gasol is listed at 265 feathery pounds, but anyone with a pair of eyeballs could see that Gasol isn't up to par with the majority of NBA bodies. Gasol might not have the body frame his brother Pau has, but at least his stock is much higher around the league.
9.) James Harden
The Beard is another classic player that is not necessarily overweight, but isn't sporting  a chiseled body either. Harden should probably hook up with Dwight Howard in the weight room.
8.) Raymond Felton
Raymond Felton has struggled with his weight seemingly forever. Felton's body was much more toned in college, but then again he probably didn't have the money he does now either. At some point Felton got a little too comfortable and started packing on the pounds. Now he's packing something else…oh snap! Too easy! Point is, Felton is a bit overweight these days.
7.) Andrew Bynum
Andrew Bynum hasn't played much in the last few years so this could explain him being out of shape. The Indiana Pacers recently signed Bynum and it took a few weeks before finally making his debut against the Boston Celtics in March. Maybe the last few years of knee injuries contributed to Bynum packing on the pounds. Or, his love for the game, which has always been questioned, could have contributed to him looking more like a left tackle in the NFL than center in the NBA.
6.) Carmelo Anthony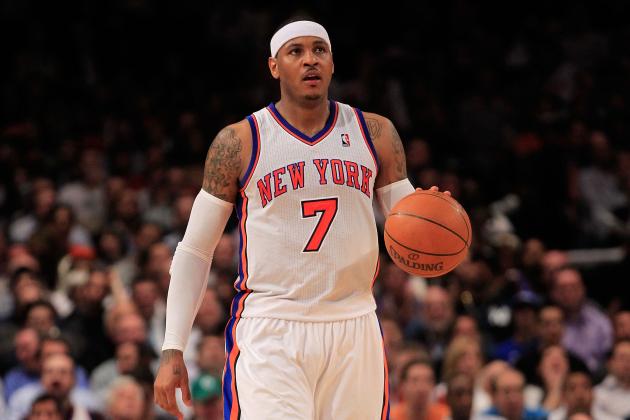 You'll never mistake Carmelo Anthony for LeBron James – at least physically. Melo has never really been built, but several times has been criticized for not being in shape. Maybe that is the reason coach Mike Woodson has played Anthony a career high in minutes this season. Just watch Melo in the fourth quarter, he looks like he needs an oxygen mask. But there is no excuse for Anthony jogging back on defense during the first quarter. This leads to one question. Is Melo lazy or just that out of shape?
5.) Paul Pierce
Paul Pierce and Carmelo Anthony have similar bodies. Of course very few NBA players are "fat," but when you're going up against 85% of NBA players that are usually well built, the players with no tone tend to stand out. Pierce as he's gotten older has taken better care of his body, but still won't be in any bodybuilding competitions.