With so many general managers handing out contracts like it's monopoly money, it would be no surprise to any avid NBA watcher why their are teams going bankrupt. In the current collective bargaining agreement, it takes a smart, savvy GM for your team to succeed and not flounder into an abysmal, perpetual state of purgatory.
All it takes in today's game is one or two bad contracts (Gilbert Arenas, Rashard Lewis) to absolutely destroy your franchise for the next five years. A good GM is essential in building your team into a perennial winner. Think of it this way, would you rather have Donald Trump running your franchise or Mike Tyson? For every Donald Trump, there are eight Mike Tyson's running teams in the NBA. Smart money management is the key, and unfortunately, so many of these general managers lack that understanding (see Isiah Thomas.)
Here is your NBA's top 10 worst contracts:
10.) DAVID LEE (6 yrs – $80 million)
At first glance this may seem ridiculous to put David Lee who was underpaid for years with the Knicks and a consistent double, double machine onto this list. A closer look would, reveal that Lee plays very little post defense, doesn't block many shots, and still doesn't have a consistent go to move to score. He's best suited for the pick and roll game and garbage points off penetration. Making around $13 million a year for a guy who's never sniffed the playoffs is too much. If Lee was making $8-10 million a year then he wouldn't warrant being on this list, but with a hard cap most likely coming, Lee getting close to max money on a young rebuilding team is derailing this team's ability to get future free agents.
9.) JOSH CHILDRESS ( 5 yrs -$34 million)
For a team that is known to shed contracts and draft picks to stay under the luxury cap, this signing came as a surprise last season. The Suns signed Childress to $34 million over 5 years, and he rewarded them with a nice 5 points per game average and chip in 3 boards per contest also.
8.) TRAVIS OUTLAW ( 4 yrs, $28 million)
A nice pardon gift from Rod Thorn right before he left office as general manager with the signing of Travis Outlaw. Thorn apparently saw something in Outlaw that none of the other 29 general managers saw, which is saying something in this league.  Mikhail Prokhorov may be one of the worlds richest men, but that doesn't help much when there is a salary cap. In fact Outlaw was ousted from his starting spot by season's end. He managed to score  9 ppg and chip in with 4 rebounds per game. Nets fans probably never thought they wish Billy King was in charge before that move was made by Thorn.
7.) BEN GORDON (3 yrs- $37 million)
The worst news out of this deal is Gordon has the player option to make $13.2 million in the final year of his contract. No way he's opting out of that. Gordon's average dipped from 13.8 his first year in Detroit to 11.2 this past year. Always been better equipped to coming off the bench, the Pistons threw big money at a guy who's been historically streaky. Not to mention their point guard Rodney Stuckey is more of a combo guard and they still have Rip Hamilton. Is it safe to say Joe Dumars was lucky in plucking Chauncey Billups and Ben Wallace while making shrewd trades for Hamilton and Rasheed Wallace? Dumars has single handily drove this franchise into the ground starting with the choice to pass up Carmelo Anthony in favor for Darko Milicic. Horrible contracts were handed out to Gordon and Charlie Villanueva (surprisingly didn't make the list,) while trading the teams cornerstone in Billups for an aging Allen Iverson didnt' help matters.
6.) CHRIS BOSH ( 5 yrs – $14.5 million/yr)
Last summer when Miami signed Chris Bosh to a 6 year 110.1 million dollar contract he was regarded one of the "big three." Most basketball insiders and analysts knew Chris Bosh was anything but a max contract player. In fact he is a slightly better version of the aforementioned David Lee. Bosh can opt out of his contract after the fourth year, but who's he kidding with that clause, he'll never get the money he is making now by then at age 31. Miami could have went in several other directions, like go after Amar'e Stoudemire or Carlos Boozer for fewer years and money or just keep the cap space for the class of 2012 when Deron Williams, Chris Paul, and Dwight Howard will be available. After this tumultuous season in which he was heavily criticized, there may not be any takers for Chris Bosh and his fat contract if the Heat were to not win in the forseeable future. It may be a surprise to see Bosh on the list, but anytime you're a slighty better version of another player on this list who's grossly overpaid, it's tough to argue why you shouldn't be on this list.
5.) CARLOS BOOZER ( 4 years – $60 million)
At least he's got one less year then Chris Bosh, but at 29 soon to be 30-year-old Boozer will complete this contract at the age of 34 at a physical position where he's not the most durable player. Only once since his rookie year has Boozer managed to play in at least 80 games. While four times during his 9-year career he has played under 60 games in a season. His production is steady still, although he's certainly struggled at spots this year playing with a more offensive minded point guard in Derrick Rose opposed to Deron Williams. Boozer puts up similar stats to David Lee, except David Lee is durable. With an abundance of big men on the roster this may have been a panic move to grab a free agent during last summer's free agent summit. No doubt Boozer is the low offensive presence the Bulls have sought for years, but he has never had a great history of staying healthy and this contract might end up being a thorn in the side of the Bulls the next few years with the eventual big pay-day Derrick Rose has in front of him.
4.) HEDO TURKOGLU ( 3 years, $10 million per year)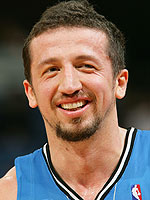 Turkoglu at 32 years old and still having 3 years left on his contract qualifies as another smart move made by Bryan Colangelo two seasons ago. Turkoglu had really only one break out season during his 10-year career and that came in the 2007-2008 season. Now Otis Smith (another free spending GM) made a big splash during the season and gutted his Orlando Magic roster to bring back Turkoglu. While acquiring Jason Richardson and (spoiler alert) Gilbert Arenas also. Anytime you can make a trade to get back three combo guard, ball dominating players with insane contracts you have to do it! This had panic move written all over it. Turkoglu will be nearly impossible to trade especially seeing that in the next collective bargaining agreement a hard cap is imminent.
3.) EMEKA OKAFOR ( 3 years, $40 million)
Okafor signed a ridiculous 6-year 72 million dollar deal back in 2008. Okafor is a consistent double, double guy but his offensive game is less polished than the often aforementioned David Lee which both are collecting similar paychecks. A career 13 ppg and 10 rpg big man, making 14.5 million in his last year of his contract (assuming he doesn't opt out, he did turn down 12 million a year earlier to his large contract,) is quite high. The cash strapped Hornets will likely have to wait another two full years before they could use this contract as a trade asset. Which brings me to this, Okafor has somehow managed to play for the Hornets and Bobcats, two of the NBA's most broke franchises. Hey, anytime your franchise is in limbo and losing money bringing in a 13 and 10 guy with marketing credibility as good as Michael Vick, will definitely be a monetary asset to your franchise!
2.) JOE JOHNSON (  6 years, $119 million )
Ok, this figure was the original contract signed last summer, but the Hawks still have 5 more years left on this deal at max numbers. It's never a good sign when you sign a max contract and your numbers dip across the board, except for turnovers which actually increased. Reminiscent of the Allan Houston contract signed last decade, the Hawks now have the soon to be 30 year old Johnson on the hook for another five years. Surprising another fellow Hawk isn't on this list, Marvin Williams. Maybe the next list should be the top-20 overpaid players. Good luck Hawks when the hard cap comes with a swing man who wants to dominate the ball in his 30s. (See Hedo Turkoglu)
1.) GILBERT ARENAS ( 3 years, $62 million)
No surprise here, but the harshest reality for Magic fans is his contract actually increases into the $20 million a year range with a player option for the 2013-2014 season. The good news? Well if there ever was a player crazy enough to possibly opt out of $22 million it would be Gilbert Arenas, but don't count on it. The salary cap strapped Magic have bigger problems on their agenda and would be crippled if Dwight left seeing that they are well above the cap for the forseeable future. At 30 years old at the start of next season and a rash of injuries during his career, it's tough to imagine Gilbert ever returning to the all-star form he once was at. That's not even mentioning his 48-game hiatus he had to take for his violation of guns at the workplace. What's really going to be interesting is the fact that Arenas has made $100 million dollars so far in his basketball career just on contracts, not endorsements.  It will be interesting to see what happens five years after his playing career is over to see how he spends his money. Based on his character and history with unique decisions made, I'm all aboard to see how Gil blows his stack.