Daily Dish: Are the Pacers the best? George/Reggie Miller, Chris Paul/Lakers, Kobe/Ware and more!
Only the Indiana Pacers remain undefeated in the Eastern Conference.  Will they run away with the number one seed?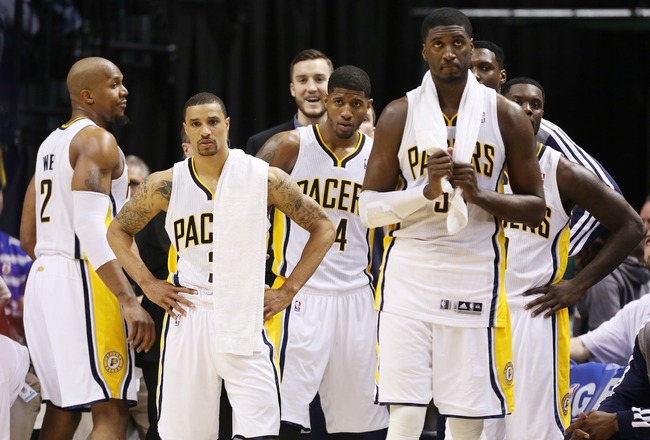 The Pacers are the only Eastern Conference team that has started out hot. Teams like the Chicago Bulls, New York Knicks, Miami Heat and Brooklyn Nets have all struggled early. The season is still young, but the Pacers look like a juggernaut compared to the rest of the East. If these other teams continue their slow start, could Indiana run away with the one seed?
NBA Hot Links: 
Ever wonder what the Los Angeles Lakers could have been had the trade for Chris Paul went through? To refresh your memories, the Lakers had a deal that was supposed to send Chris Paul to La La Land and instead was nixed by commissioner, David Stern. Well, Mitch Kupchak hasn't forgotten and although he gave the soon-to-be retired commish a lot of credit, he had to throw in a jab. (Los Angeles Times)
Kobe Bryant made a really cool bet with Kevin Ware.  (SlamOnline)
Easy, Roy Hibbert! The Indiana Pacers big man and former Georgetown center, said that Paul George can surpass Reggie Miller's Pacers legacy. Can't we let players get in a half a dozen years before we start making these crazy proclamations? Sure George is very talented, but is it realistic to make sure bold predictions after such a short body of work? And it is disrespectful to the players that paved the way for players like Paul George. (Sports Illustrated)
Thabo Sefolosha had a nice crossover that made Marcin Gortat fall. Too bad he missed the shot. (SlamOnline)
For all of you loyal readers, you know about my disdain for Knicks owner, James Dolan. The incompetent owner has given us his guarantee of a win against the Atlanta Hawks on Wednesday. I'd like a different guarantee Dolan, how about you guarantee to shut up for a while. (ESPN New York)
Could someone other than Andrew Wiggins, Jabari Parker or Julius Randle be selected number one in next year's NBA Draft? Apparently Dante Exum from Australia is generating a lot of buzz about being the overall number one pick. (Chad Ford/ SB Nation)
WATCH: Anthony Davis video of him getting spanked. I never understood hazing, but apparently it's a big deal. (Vine)

Daily Dish video of the day belongs to Gerald Green and his sick windmill slam:
The NBA WAG of the day is Matt Barnes' wife, Gloria Govan:
FOLLOW/EMAIL Jason Whitney at:
Twitter: JasonWhitney24
Email: nysportsguys@gmail.com