Arizona Diamondbacks designate former Closer J.J. Putz for assignment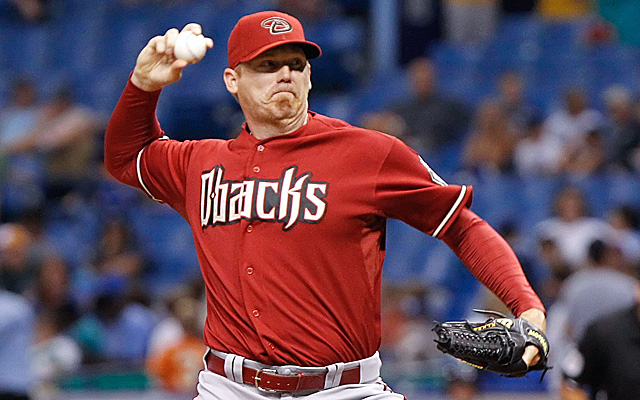 J.J. Putz time in Sedona Red may very well have come to an end with the announcement of the Diamondbacks designating him for assignment today and recalling outfielder Ender Inciarte from the 7 day disabled list.
Putz spent the better part of four seasons with Arizona going 7-9 with a 2.81 ERA, which is second-best among Diamondbacks pitchers all-time, in and compiling 83 saves, also second best all time in franchise history,  in 160.1 innings pitched in 175 games.
Even though this is Putz 12th year in the majors, he still considers his time in the desert with the snakes as his best time in his career. Especially the 2011 season in which he put up his best season of his career when he went 2-2 with a 2.17 ERA and 45 saves in 58 innings and 60 games and helped them capture the NL West Division crown.
"That's the highlight of my career, to date; that whole season was just magical," he said of 2011, the latest of the Diamondbacks' five NL West division championships. When Goldy (Paul Goldschmidt) hit that ball down the line and we clinched that division that night — I still get goose bumps thinking about it. It was without question the greatest thing I've ever been a part of."
He will be missed by the organization from the front office to the players in the locker room. But this was a business move first and foremost. Losing a player of Putz's caliber on the field and off will be difficult to replace. However with the addition of current closer Addison Reed this past off-season the writing was all over the wall for J.J.'s time as a Diamondback. This is what he had to say about the move and his time with the team;
"It's sad. I've really, really enjoyed my time here. My family, we obviously live here and to be able to call the Diamondbacks home as well was a pleasure, an absolute pleasure. I'm not really surprised. I kind of had this feeling that something like this was going to happen. I just didn't know when. They had to make a decision and this was probably the most logical one to make. I can't say enough about the guys in that clubhouse. And that's probably the hardest thing about this is I've been on plenty of different teams, but the group of guys in that clubhouse are a special group and not being able to see those guys everyday is going to be the hardest part. They're just quality, character guys. They're first class. It's going to be tough not seeing those guys every day."
The sentiment was shared from Manager Kirk Gibson and relief pitcher Brad Ziegler.
"It's a hard one. I have the utmost respect for J.J. I'm very grateful for what he did for us in 2011. He was such a huge part of that season; and not only on the field, but what he did off the field. We became very good friends." -Manager Kirk Gibson

"From a bullpen standpoint, we're losing our leader. That's the guy that we've looked up to the last several years and the guy that's been kind of the mentor for everybody. You're never going to be able to truly replace him. At the same time, we've got to come together as a team and play better on the field than we have been." -Pitcher Brad Ziegler
Putz was 1-1 with a 6.59 ERA in 18 relief appearances this season and 37-33 with 189 saves and a 3.08 ERA in 572 relief appearances for his career.
The Diamondbacks have 10 days to either trade, waive or release Putz, who is making $7 million as part of a two-year extension he signed in 2013.
Phoenix Sports-Kings Contributor, Manuel Childs