One of the most commonly used phrases in sports: "what if." Well at least when five or six of your knucklehead friends are arguing sports at a bar. We all have that friend that commonly argues sports that's premised on a bunch of "what ifs." Or if you are a part of our click you would refer to him as "Jim Racalto" That is what makes sports so much fun to debate and argue, though. Picture this for a second, how the last ten years would have played out differently had a few balls bounced a different way, or a few calls would have been reversed.
Here is my top 7 most influential "what if" moments:
7.) MARIANO RIVERA'S 2001 WORLD SERIES GAME-7 BLOWN SAVE: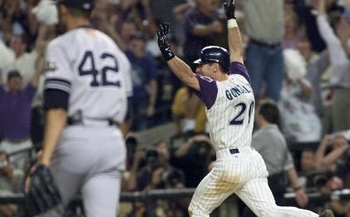 Back in 2001, the Yanks were seemingly on their way to clinch a fourth straight title after an Alfonso Soriano 8th inning home run during game 7 of the 2001 World Series. I still remember watching this game almost taking for granted this Yankees team. Being spoiled by 4 titles in 5 years as a teenager growing up, that is easy to do. We all know where this story goes from here, as Luis Gonzalez blooped a Rivera pitch barley into the outfield grass as the greatest reliever of all-time blew his biggest save ever.
I still get bummed out thinking about this game. The Yanks would go on to reach another World Series against the Marlins in 2003 but would fall short again. They wouldn't again be able to call themselves champions until 2009. Lesson here, don't ever take your teams success for granted.  Imagine if the Yankees  had won that game. Mo and the Yanks would have won their fourth championship in a row, and enhanced their dynasty to a level in sports that arguably we will never see again. I have a feeling Mo will be back on this list later (spoiler alert.)
6.) 2009 NBA FINALS LAKERS VS MAGIC: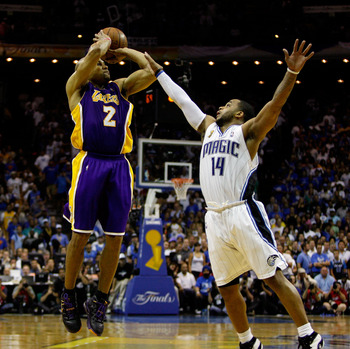 The Magic were clearly not destined to win this series. If game two wasn't enough proof, I don't know what is. Speaking of game two, the Magic had bad break after bad break and still should have won the game. Fast forward to 47 seconds left in regulation, Hedo Turkoglu hits a long jumper that was originally called a three, but then changed to a two point shot (first bad break.)  Proceed to 10 seconds left in the game, Courtney Lee misses two layups in the Magic's final two possessions, that would have out right won the game for the Magic leveling the series at a game a piece. All this coming in the last minute of the game!
Let's jump to game four. With the series in the Lakers favor at 2-1, the Magic had a 5 point lead with 31 seconds left. The last 31 seconds featured two miss free throws by Dwight Howard, and some swiss cheese defense. If this wasn't gut wrenching enough, with 11 seconds left in the game, Derek Fisher who previously missed his last five three pointers, flies up the court and takes an off the dribble three-point shot and nails it!
This isn't even much of a "what if" scenario. The Magic choked and clearly should have won both games. The Magic should have had a chance to clinch the NBA Finals up 3-1 on their home court. Instead for Magic fans, they can only sit and wonder what could have been.
5.) BEN ROETHLISBERGER, AND THE STEELERS SUPER BOWL WINS: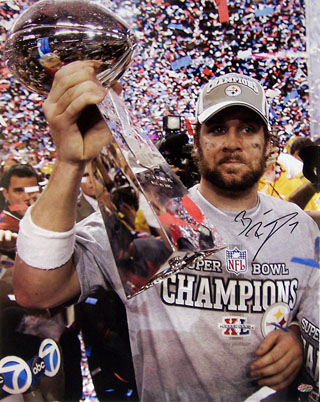 Steeler fans are like rabid raccoons, so I'm sure I'll be harassed by this. There is no denying the Steelers and Mr. Roethlisberger could easily be a winless 0-3 in Super Bowls this decade. In fact I would even argue that we really don't know how good Roethlisberger even is. Remember the Steelers also made the Super Bowl with Neil O'Donnell at quarterback. Kordell Stewart twice led them to the AFC Conference Championship game, with chances to have won both. Not to mention Tommy Maddox nearly got them into the AFC Championship game in 2002 losing to the Titans by three points in the Divisional round.
Now I know Steeler fanatics (or if you ask them they're a part of the team so we'll settle with "we") will tell you that O'Donnell was quarterback in the 90s and Kordell Stewart and Tommy Maddox were a part of the Cowher crew from the late 90s and early 2000s. Point taken, but If there is one team that has never changed their identity it is the Steelers, so I would argue that it really didn't matter what era, their defense is what has always carried them, hence making quarterbacks look better than what they actually are.
Getting back to the point here, Ben played a horrific super bowl game against the Seahawks and was bailed out by some horrible, wait let me rephrase that GOD-AWFUL zebra calls. The Steelers very well could and should have lost that game. Combine that with their Super Bowl win they eked out against the Cardinals in which it only took two of the greatest Super Bowl plays ever, and Pittsburgh could be the Buffalo Bills of this generation.
Oh, and for any Steeler fan to complain about the victory over the Cards, it took a miraculous 101 yard interception return for a touchdown and a gravity defying Santonio Holmes corner touchdown grab for "you" guys to claim victory. So go back to your trailer parks
4.) 2007 NEW YORK METS 7-GAME LEAD COLLAPSE: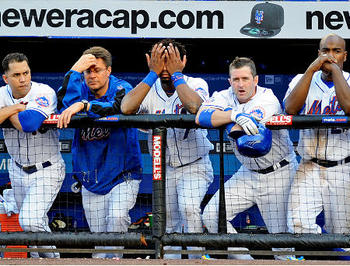 Up 7 full games starting September 12th most teams would put it in cruise control. Well, not only did the Mets put it in cruise, they kept it in cruise as the Phillies stormed their way back from a 7 game deficit with 17 games left.
The Rockies ultimately swept the Phillies and Diamondbacks in the playoffs, but the Mets were clearly the best NL team all year-long. Could we have seen a more competitive Red Sox VS Mets World Series in 2007? The return of Pedro Martinez to Fenway? Pedro came back that September and pitched pretty well, posting a 3-1 record with 2.57 ERA.
One of the biggest "what if's" of last decade. The Mets may have been the only team that could have beaten Boston out of the NL teams. A rematch of the classic '86 world series would have been priceless!
3.) 2003 CUBS VS MARLINS (STEVE BARTMAN GAME)
Talk about torture! With the Cubbies leading the series 3-2 and five outs away from reaching the World Series, the demons and ghosts from the past revisited Wrigley Field. In the 8th inning with a runner at 2nd base with one out, Luis Castillo hit a pop up that appeared to be a catchable ball for outfield Moises Alou. Well, Bartman had different ideas as he felt he needed a souvenir. Had Bart-Man left the ball alone that would have made the 2nd out in the inning with Prior pitching a gem. Who's to really say if the Cubs would have been out of the inning, but the ghosts of the past clearly showed its ugly face, as the Fish would go on to score 8 runs in that inning and eventually make its way to the World Series and be victorious against the Yankees.
Crazy to think the Cubs probably would have gotten out of that inning had Alou made the catch, and been in the World Series more than likely.  The Marlins would go on to win the World Series in the next round against the Yanks pretty handily. Damn, to think the Cubs may have been the second tortured team in the decade to end its dreaded curse and be called champions is quite profound. Also both "cursed" teams would have broken their drought against arguably sports greatest franchise, the New York Yankees.
2.) 2002 AFC DIVISIONAL GAME: PATRIOTS VS RAIDERS (TUCK RULE GAME)
As a beloved Oakland Raiders fan, this game is still hard to even write about. This game seems like it may have been a spring-board for the NFL to take out the "common sense" aspect of the game. How many times have we seen someone catch a ball in the end zone, with both feet down, falls on the ground, rolls over, goes to get up, then the ball falls out of his hands? Then upon replay review, be called NO TOUCHDOWN! Wait what!
This game is such a travesty that I can't even fathom how the Raider players felt after the game. Speed up to 2011 and we still see wide receivers catch a ball, turn up field and get planted, lose the ball, then upon replay get told the receiver never had possession. Again WHAT!
To get to the point, Tom Brady was clearly sacked by Charles Woodson and the ball was being jarred loose, not from a throw but simply from the hit. Brady later would admit that he fumbled the ball. Nothing like adding a little salt in the wound, eh? Well what if it was called a fumble? The Raiders recovered the ball and would have won the game. Would the Patriots have kept Tom Brady? Remember the following year the Patriots didn't even make the playoffs.
Would there have been the maniacal genius known as Bill Belichick? My guess is the Patriots probably would have traded Drew Bledsoe regardless, but I don't think we're talking about the Patriots dynasty, or the lure that comes with it the same. After spygate, the Pats ironically may have been looked at more like the Raiders than the model franchise it is surely looked at now.
One last point, what if the Raiders would have moved on to the Super Bowl instead of the Pats? Raiders Vs Rams Super Bowl may have featured a score like 42-35 that year. Talk about an entertaining game! To take it one-step further, who's to say the Raiders don't only win the Super Bowl, but keep Jon Gruden and win in 2003 as well? Are we talking about a Raiders dynasty at that point? I'll go cry now.
1.) 2004 RED SOX 0-3 COMEBACK VS THE YANKEES:
This list has been more bad than good for me. My other beloved team, the New York Yankees seemingly had thwarted yet another attempt by the Red Sox to break their curse. The great Mariano Rivera comes in to slam the door shut in the 9th inning and continue the perpetual heartbreak for the Red Sox fans and of course what happens, he blows it!
I say screw Dave Roberts and his accounts of what happened. Of course he's going to say the "pick off throw" attempts helped him get loose. You know, sliding on the cold, hard dirt back to first base helps anyone's legs get loose.
Anyways, what if the greatest closer ever didn't unconventionally walk the lead off hitter to start the inning? This got me thinking, Rivera is no doubt the games greatest closer, and the Yanks have won countless world series because of him. But can anyone remember a man in charge of blowing more big games than Mo? Cleveland Indians '97, Game-7 Diamondbacks in '2001, Game 7 '2004 Red Sox. I guess that is a tribute to how good he is, considering that most relievers would be out of a job if they had that on their resume.
Last point, If the Yanks go on to win this game, what does the future hold for the Sox? Do they dismantle the team and start over? Furthermore, if Mo doesn't blow game 7 in Arizona, and slams the door on the Red Sox, are we talking about the Yankees winning 6 titles in 8 years? WOW. Could have, and probably should have happened. Can we ever say another team will have that capability again?
Yankee haters get over it. It took two epic breakdowns from the greatest closer ever in order for the Yanks not be called possibly the greatest dynasty ever. Instead of "what if" imagine if Mo finished off the Diamondbacks and the Sox what we would be saying.