The crossover is the flashiest move in the NBA. When used, the move will draw the oohs and aahs from everyone in the crowd. In this modern era of individualism and flash, the crossover is in every young baller's repertoire. From Timmy Hardaway to Allen Iverson, this move has been the staple of streetball that is usually taken out by the structured NBA style game. In fact they banned Iverson's patent crossover because it was considered palming and carrying the ball (classic streetball dribble). Look this isn't the 60's, we need to bring that back! Here is your best crossovers in the NBA today.
8.) John Wall
Wall's crossover reminds me of Stephon Marbury in that they lull you to sleep going one way, then BAM they're gone in a flash. With Wall's explosive first step as soon as he feels the defender is on his heels he accelerates to the rim and often flushes it down.
John Walls crossover will rise up the charts as he gets in more NBA games and highlights in. Until then, stay tuned as you won't want to miss a game featuring Wall!
7.) Steve Nash
Nash has an unorthodox approach to the crossover. It's not your prototypical streetball I'll palm the ball while holding it for 3 seconds then cross you up move, but more of a get you off-balance and bust to the hoop move. Nash doesn't seem like he's the quickest, fastest, or most explosive player, yet he finds a way to get you off-balance and get to the cup and often times defenders are left wondering what happened.
Check this move out on LeBron James and the rest of the defense: http://www.youtube.com/watch?v=FnAX231-UZM
6.) Dwyane Wade
I'm not as big of fan as most people of Wade's crossover. I think most of his highlights off the crossover come from him pulling it back, not necessarily crossing someone up. Still with that said, he has one hell of a crossover and he uses it well.
Here is Wade using his pull back dribble to perfection against the Jazz: http://www.youtube.com/watch?v=tv-2bK_v7NY
Seems like he has a plethora of those kind of highlights. I've seen Chris Duhon as a victim on several NBA players crossover highlights, that can't be a good sign.
5.) Deron Williams
Deron Williams crossover is a beauty to watch. He sets up his opponent and does it in rhythm. You almost can see it coming, as Williams usually sets up his opponent with a few dribbles between the legs, and the shifts his momentum to one side, and on a drop of a dime crosses you over and gone.
Williams is so big and strong that when he does cross his defender over he can finish at the rim. Size and speed? What a combo.
4.) Joe Johnson
Johnson has some nice flash to his game. I love when he takes dudes off the dribble. Maybe he's considered a ball stopper in some circles, but when he's isolated going one-on-one he usually makes the defender either look silly or scores.
Such a quick in and out dribble, it's almost impossible to guard him when he's on. A blend of quickness, great handles, and can shoot the jimmy makes him silky smooth… Just not his contract.
Check this move out he pulls on Stephen Jackson: http://www.youtube.com/watch?v=Nikiacc5PBM
3.) Derrick Rose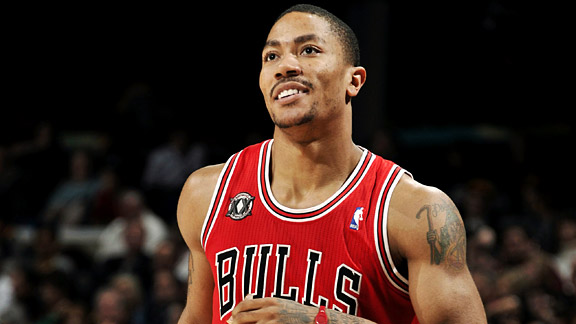 Talk about explosive. Rose shoots past his defender like a rocket. So nifty in how he uses his speed and dribble to get to the hoop. He almost has a hitch to his burst, he completely destroys his defenders routinely.
His herky jerky moves to the hoop are breath-taking. Once he get's to the rim he's able to use his athleticism to routinely make acrobatic type plays that make us say WOW, how the hell did he just do that!
 2.) Chris Paul
CP3 will add to his collection of highlight plays now that he's in Clipper land playing with athletic freaks Blake Griffin and DeAndre Jordan. His crossover however is so smooth and fast that it makes even the greatest of NBA players jealous.
I will say if I was watching tape on Paul you would notice that he always crosses over from left to right. Easier said that done right? Check out the top five Chris Paul crossovers: http://www.youtube.com/watch?v=6oZA4rtX0Xg
1.) Jamal Crawford
Crawford's crossover is sick. I'd put it up there with Allen Iverson and Tim Hardaway of all-time best crossovers. Shake 'n Bake is this dudes forte. Wiry, skinny, and slender Crawford has made a living crossing up bigger, stronger defenders.
Electric quick with his crossover and does is just as well with either hand. All you need to know about Crawford and his crossover is to type it in on YouTube and check out all the videos that come up. Dude is straight sick with his handles, evidence by this mix tape: http://www.youtube.com/watch?v=smNG3-7ZDys