The NHL, in an effort to better accommodate geography and reduce grueling travel schedules on teams like Winnipeg, Dallas, Detroit, Minnesota and Columbus, recently approved a radical new realignment for the league. The new scheme features four conferences (tentatively named Conference A, B, C and D), all geographically aligned to make sure teams within the conference do not have to travel more than one time zone to play an intra-conference game. And of course, these new conferences are bound to create new rivalries. But what new rivalries will we see spring from the new four-conference alignment?
5. Columbus Blue Jackets vs. Winnipeg Jets

A rivalry of two of the weaker teams in the league, you say? A future rivalry between the teams that represent the American Union Army and the Canadian Air Force, I say. Columbus and Winnipeg can't suck forever, right? And when they do indeed turn things around, we'll be seeing a fun, cross-border rival between two "Conference B" military-themed teams.
4. Detroit Red Wings vs. Minnesota Wild

Two American hotbeds of hockey talent are joined at the professional level in "Conference B" of the new NHL to play each other six times a year now. It only makes sense that these two hockey-crazed states will come together to form a great rivalry in the form of Wild v. Red Wings.
3. Pittsburgh Penguins vs. Washington Capitals

Ok, so this one isn't new, since Crosby vs. Ovechkin has been a main selling point for the league for about five years now. BUT, the joining of Washington and Pittsburgh in "Conference D" does allow for "Crosby vs. Ovechkin" to be featured six times a year, and the rivalry will decide the fate of a conference, instead of just being a nice hypothetical playoff scenario for fans to drool over the possibility of. And speaking of hypotheticals….
2. Vancouver Canucks vs. Seattle Coyotes.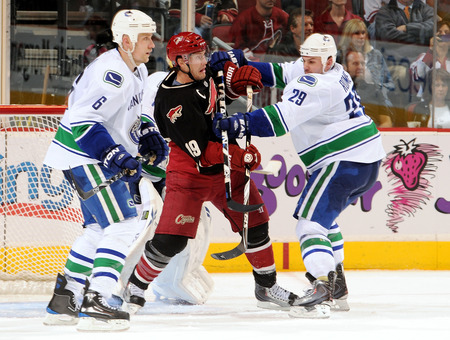 Yeah, I'm calling it now. Seattle gets a hockey team and becomes instant rivals with their neighbors to the north, a la the Toronto Maple Leafs/Buffalo Sabres rivalry. Let's face it, there's no way the 'Yotes stay in Phoenix past 2012. There's no new owner in sight, and it's just plain immoral for the citizens of Glendale to have to pay another $20M+, the way they did last year, just to keep a team that's hemorrhaging money. So, yeah. Phoenix moves to Seattle (and presumably drops their desert-oriented nickname….Seattle Seablades anyone?), and gives Vancouver the rival they've never really had.
1. Minnesota Wild vs. Dallas Stars

Minnesota is the State of Hockey. They get to have two rivalries (hey, Pennsylvania gets Penguins/Flyers and Penguins/Capitals, so I think the Minnesota can have Wild/Red Wings and Wild/Stars). This one means more than Wild vs. Red Wings. Nineteen years ago, the Minnesota North Stars abandoned the Land of 10,000 Lakes to move south and become the Dallas Stars. Nearly a decade later, the NHL gave the hockey starved Minnesotans a new franchise, the Wild. And now we get to see the old Minnesota team face off against the franchise that replaced them six times a year. Seems like the stuff great rivalries are made of.
-By lead columnist Arun Morace